Jorge Valenzuela | Teaching Assistant Professor
Ph.D. - 2014, Kansas State University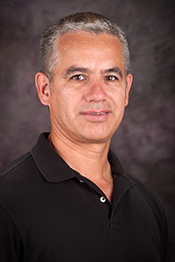 Computer Science
M.S. - 2000, Kansas State University
Computer Science
B.S. - 1990, Monterrey Tech, Mexico
Computer Engineering

Contact Information
2172 Engineering Hall
785-532-6644
jvalenzu@k-state.edu
Professional Experience
Dr. Jorge Valenzuela received a bachelor's degree in computer engineering from Monterrey Tech, Mexico, in 1990. Following graduation, he joined Petro Ensambels as a software engineer/team leader and worked there from 1991 to 1997. In January 1998, he came to K-State to pursue a master's degree in software engineering. After obtaining his master's degree, Valenzuela worked for Motorola as software engineer from 2000 to 2003. He returned to K-State in 2004 and received his doctorate degree in computer science in 2014. He then worked for the K-State College of Education as systems programmer for the Center of Intercultural and Multilingual Advocacy. He also worked as adjunct instructor in the K-State department of computer science from Fall 2014 to Spring 2016. Valenzuela currently holds an instructor/adviser position in the department.
Research
Valenzuela's research interests focus on software engineering, multi-agent systems, computational thinking, and computer Science in grades K-12.