Josh Weese | Teaching Assistant Professor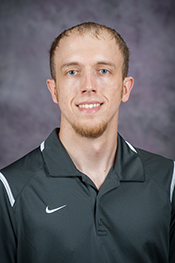 Kevin and Jacquie Elmore - Carl and Mary Ice Cornerstone Teaching Scholar
Ph.D. – 2017, Kansas State University
Computer Science
M.S. – 2013, Kansas State University
Computer Science
B.S. – 2011, Kansas State Polytechnic
Computer Systems Technology
Contact Information
2214 Engineering Hall
785-532-7929
weeser@k-state.edu
Personal Website
Professional Experience
Josh Weese received a bachelor's degree from K-State Polytechnic in 2011. After earning his bachelor's degree, Weese worked for Philips Lighting as a software engineer, Kasa Industrial Controls Inc. as an IT assistant, and at the Cerner Corporation as a systems engineer intern. He then worked as a teaching and research assistant at K-State and completed a master's degree in 2011 and a doctorate in 2017.
Research
Weese has expertise in data science, software engineering, web technologies, computer science education research, and primary and secondary outreach programs. He has been a lead developer for the Data Explorer, a data analytics and visualization portal hosted by PhysPort by the AAPT. The portal enables physics faculty to upload assessment data to receive instant feedback, including expert recommendations and customized visualizations.
His main area of focus is in computer science education, particularly creating and developing curriculum and assessments for computational thinking. He is highly active in various outreach programs, including Kansas STARBASE and Girl Scouts of the USA. Weese has also participated in research in machine learning applications, including polyphonic signal detection, parody detection and text extraction.
Academic Highlights
Weese has published five refereed conference papers, as well as two book chapters. He won second place in the 2014 Kansas State Research Forum in the Engineering, Math and Physical Sciences poster session, and placed first in his group at the 2016 Kansas State Research and the State. He has served as a reviewer for four different conferences. Weese has developed, organized, and led activities for several outreach programs for K-12, impacting more than 4,000 students. These programs include GROW, EXCITE, USD 383 STEM Institute, Kansas STARBASE, Insight GK-12, and the Hour of Code. He has also developed a 10-week Python course for non-CS majors, and has taught many other courses that include programming fundamentals and computer science ethics. He is the faculty mentor for the hackathon club, Hack K-State.