Graduate Program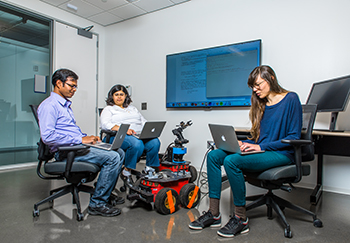 Master of Science
The Master of Science program is a broadly based curriculum designed to prepare students for advanced positions in the computing industry as well as for further academic studies. The M.S. degree requires a minimum of 30 credit hours of graduate-level coursework.
The Master of Science in computer science is available via distance learning.

Doctor of Philosophy
The doctorate degree program is a research-oriented curriculum designed to prepare students for advanced research industry and university-level academic positions in the computing field.
Application Information
Minimum Admission Requirements
GRE scores (Institution Code: 6334, Department Code: 0402)
Minimum scores: Verbal – 146; Quantitative – 151; Analytical – 3.0
Graduation from an accredited institution with a baccalaureate degree in computer science or closely related field.
A minimum grade point average of 3.0 out of 4.0.
International Students
Official TOEFL scores (Institution Code: 6334, Department Code: 78)
Must be at least 79 (internet based), visit the Graduate School for more details
Application Deadlines
Summer – January 8
Fall – January 8
Spring – August 1