Nathan Bean | Instructor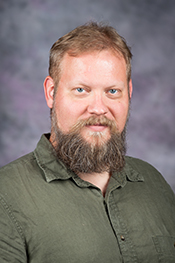 Richard B. and Mary Jo Myers Cornerstone Teaching Scholar
M.A. - 2009, Kansas State University
English/Creative Writing
M.S. - 2005, University of Abertay Dundee
Computer Games Technology
B.S. - 2003, Kansas State University
Computer Science

Contact information
2216 Engineering Hall
785-532-7942
nhbean@k-state.edu
Personal website
Professional experience
Nathan Bean has ten years of experience in the software development industry creating full-stack web applications for Envisage Consulting and Wellspring Web Design. He was the program coordinator for INSIGHT, a NSF-Funded program that partnered graduate students in Computer Science and other disciplines with teachers in K-12 schools to develop curriculum to bring sensor technology into the classroom. He also volunteers for the Boy Scouts of America, and is a certified COPE director.
Research
Bean's primary area of research is at the intersections of education and computing, especially the use of computers, simulations, and games as learning tools. He is the current president of the Kansas Partnership for Applied Computational Thinking (KS-PACT), an organization that researches bringing computational thinking into K-12 classrooms as a tool for carrying out work in other disciplines (literature, music, mathematics, social studies and the sciences). As part of his KS-PACT activities, he is guiding the development of microworlds – programmable scientific simulations – and associated curriculum for use in K-8 schools.
He was also a researcher on the NSF-funded CI-TEAM project, which developed the concept of a "hackable glass box" simulation – a simulation that allowed students not only to examine how the simulation works, but to change and adapt it.
Bean has also been involved in several teacher preparation programs to bring computational thinking and computing into K-12, including the development of curriculum materials released under a creative commons license and available on his website. Additionally, his group conducted a pilot study of a mastery experience approach to developing teacher self-efficacy in computational thinking in fall 2013 and fall 2014. This two-hour intervention involved pre-service teachers from all discipline areas and demonstrated a large, statistically significant positive effect, pre (M=21.50, SD = 8.16) to post (M=31.75, SD=6.45),t(107)=13.613, p<.0001, Cohen's effect size value (d=1.316) using an early short form of the Teacher Self-Efficacy for Computational Thinking (TSECT) instrument he developed.
Academic highlights
Bean has developed a number of courses for the computer science department, including Introduction to Computer Science, Foundations of Game Programming, Game Engine Design and Web Interface Design. He is the mentor for the Game Development Club and E-Sports Club. He helped prepare the first Aesthesia event, organize the Annual K-State Invitational Game Jam, and helps with the CS department's open house efforts every spring.
Bean has also utilized the software engineering project course he teaches to advance the research and extension mission of K-State. Student teams in the course are assigned a project drawn from needs of research faculty and community members, and are charged with creating a software-based solution. This gives the students real-world development experiences working on software that are addressing critical needs in agriculture, education, engineering, and other areas. All software developed through the class efforts are released under open-source licenses.