Doina Caragea | Professor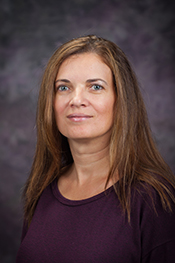 Don and Linda Glaser Keystone Research Scholar
Michelle Munson-Serban Simu Keystone Research Scholar
Ph.D. - 2004, Iowa State University
Computer Science
M.S. - 1997, University of Bucharest
Computer Science
B.S. - 1996, University of Bucharest
Computer Science
Contact information
2177 Engineering Hall
dcaragea@k-state.edu
Personal Website
Professional experience
Doina Caragea received a doctorate in computer science from Iowa State University in 2004, and was honored with the Iowa State University Research Excellence Award for her work. She was also the recipient of the prestigious IBM Fellowship in 2002 and 2003.
Research
Caragea has expertise in machine learning and data mining, with applications to data intensive problems in recommender systems, text analytics, security informatics, and bioinformatics. In recent years, she has focused on semi-supervised and domain adaptation algorithms, under the assumption that labeled data for a domain of interest is limited, if available at all.
Academic highlights
Caragea has published more than 100 refereed conference and journal articles, and was co-editor for a book on "Computational Methodologies in Gene Regulatory Networks", published by IGI Publishers. She graduated four doctorate students and more than 25 master's students during her ten years at K-State.