Rodney Howell | Associate Professor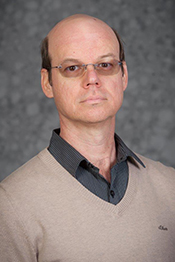 Ph.D. - 1988, The University of Texas at Austin
Computer Science
B.S. - 1984, Wichita State University
Computer Science

Contact information
2163 Engineering Hall
785-532-7735
rhowell@k-state.edu
Personal Website
Professional experience
Rodney Howell received a bachelor's degree in computer science from Wichita State University in 1984 and a doctorate degree in computer science from The University of Texas at Austin in 1988. In August 1988, he joined the department of computing and information sciences (now computer science) at Kansas State University as an assistant professor. In 1994, he was promoted to the rank of associate professor. Since 2014, he has served as the department's undergraduate programs director.
Research
Howell's research has focused on the computational complexity of problems related to Petri Nets, issues in self-stabilizing systems and real-time scheduling problems.
Academic highlights
Howell has authored a textbook, 15 journal articles, and 16 refereed conference articles. As of 2016, these publications have resulted in more than 1200 citations and an H-index of 14 according to Google Scholar. Professor Howell has directed seven completed master's theses and reports.