Dennis Lang | Teaching Assistant Professor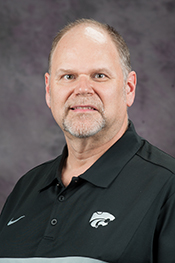 Ph.D. - 2005, University of Missouri Kansas City
Urban Leadership and Policy Studies
M.S. - 1986, University of Missouri
Higher and Adult Education
B.S. - 1984, University of Missouri
Mathematics
Contact information
2211 Engineering Hall
dlang1@k-state.edu
Professional experience
Dennis Lang received a bachelor's and master's degrees from the University of Missouri in 1984 and 1986, respectively. He received a doctorate from the University of Missouri Kansas City in 2005. Lang taught at Columbia College in 1986, and then taught at Long Beach City College, Brooks College, and Orange Coast College in California until 1990. He taught at Johnson County Community College and Longview Community College from 1990 until 1994. He then worked as a network and computer support specialist at Longview Community College from 1994 to 1996. He was a senior professor at Devry University from 1996 to 2007. He then taught at Rockhurst University, Haskell University and Park University from 2007 until accepting a teaching position at K-State in 2011.
Research
Lang is not currently involved in research. While pursuing his doctorate, his research centered on academic integrity and honor codes.
Academic highlights
Lang is a multiple-year honoree for the student-nominated "Who's Who Among America's Teachers" and will complete his 30th year of post-secondary teaching in 2016.